Town Hall Historic Portraits
Displayed on the staircase of Newbury Town Hall are four historic portraits in the possession of the Town Council: John Winchcombe the Younger ("Jack of Newbury"), Sir John Boys, King George III and his wife Queen Charlotte. Two of them are of people connected with significant events in Newbury's history.
The portraits and their frames were cleaned and restored in 2013-15 by Ruth Bubb Ltd of Banbury, mainly through the generosity of 27 private donors, to which was added a contribution by Newbury Town Council.
Newbury Town Council is very grateful to the following 27 donors whose generosity has made possible the restoration and conservation of the four historic portraits in Newbury Town Hall.
Benchmark Ltd, Charles and Patricia Brims, Paul Bryant, Mary Buxey, Sir Terence Conran, Jo Day, the Donnington Hospital Trust, the Englefield Trust, Tony Forward, Sir Christopher Gent, Greenham Common Trust, Eric and Jenny Griffiths, Timothy Gwyn-Jones, Sir Max Hastings, the Headley Trust, Dr Christina Hill-Williams DL, Graham Hunt, Mr H.J. Mariott, Newbury Building Society, Newbury District Field Club, Newbury Town Council, the Gerald Palmer Eling Trust, Marion Paterson, Anthony Pick, Catherine Pick, the Sackler Trust, the G.J. Ward Charitable Trust.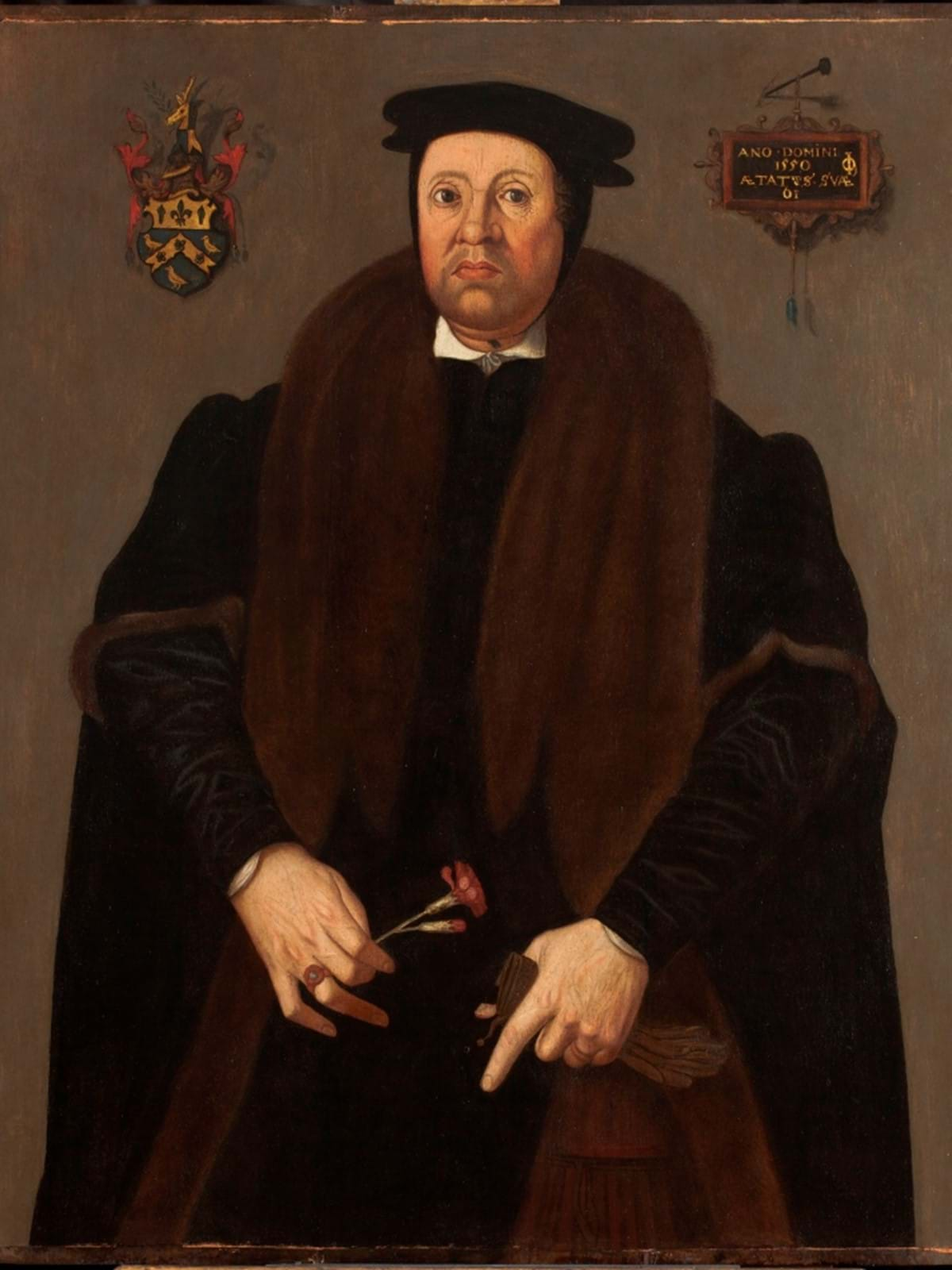 John Winchcombe the Younger ("Jack of Newbury")
John Winchcombe (c.1489-1557) was the son of a Newbury clothier, also called John Winchcombe, whose brass memorial can be seen in St Nicolas Church. He became one of the leading clothiers in England, manufacturing about 6000 cloths a year and becoming a principal exporter of English cloths to the rest of Europe via Antwerp. This required organisation for spinning, fulling, combing, weaving, and dyeing on a semi-industrial scale (David Peacock, The Story of Newbury, 2011).
Winchcombe became nationally known, leading a number of deputations to Henry VIII on the regulation of the cloth industry. He associated with Sir Thomas Gresham, founder of the Royal Exchange, and the Duke of Somerset, Lord Protector to Edward VI. He was nominated to be a member of the welcoming party for Henry VIII's fourth wife, Anne of Cleves, in 1540, and he contributed to the army which was sent to besiege Boulogne in 1544.Winchcombe was successful in acquiring property, including the manors of Bucklebury and Thatcham and land in Newbury and elsewhere. His house lay between what are now Marsh Lane and Jack Street, where Marks & Spencer now stands, and its side can still be seen in Marsh Lane. He was a member of the court which tried the Newbury martyrs in 1556.
The portrait is painted on a wooden panel and is dated 1550. It was purchased for Newbury Borough in 1835 for £5 (Walter Money, A Popular History of Newbury, 1905). It is attributed to the school of Federico Zuccaro (c. 1543-1609); however, the only known visit by Zuccaro to England was in 1575. The frame is inscribed: 'In respect of things aeternal This is veari vayne and mortell | Spende well thi mortell Lief therefore What thou maist leve for Evermore'. Two other copies of the painting are known, one at Sudeley Castle and the other at Bucklebury House.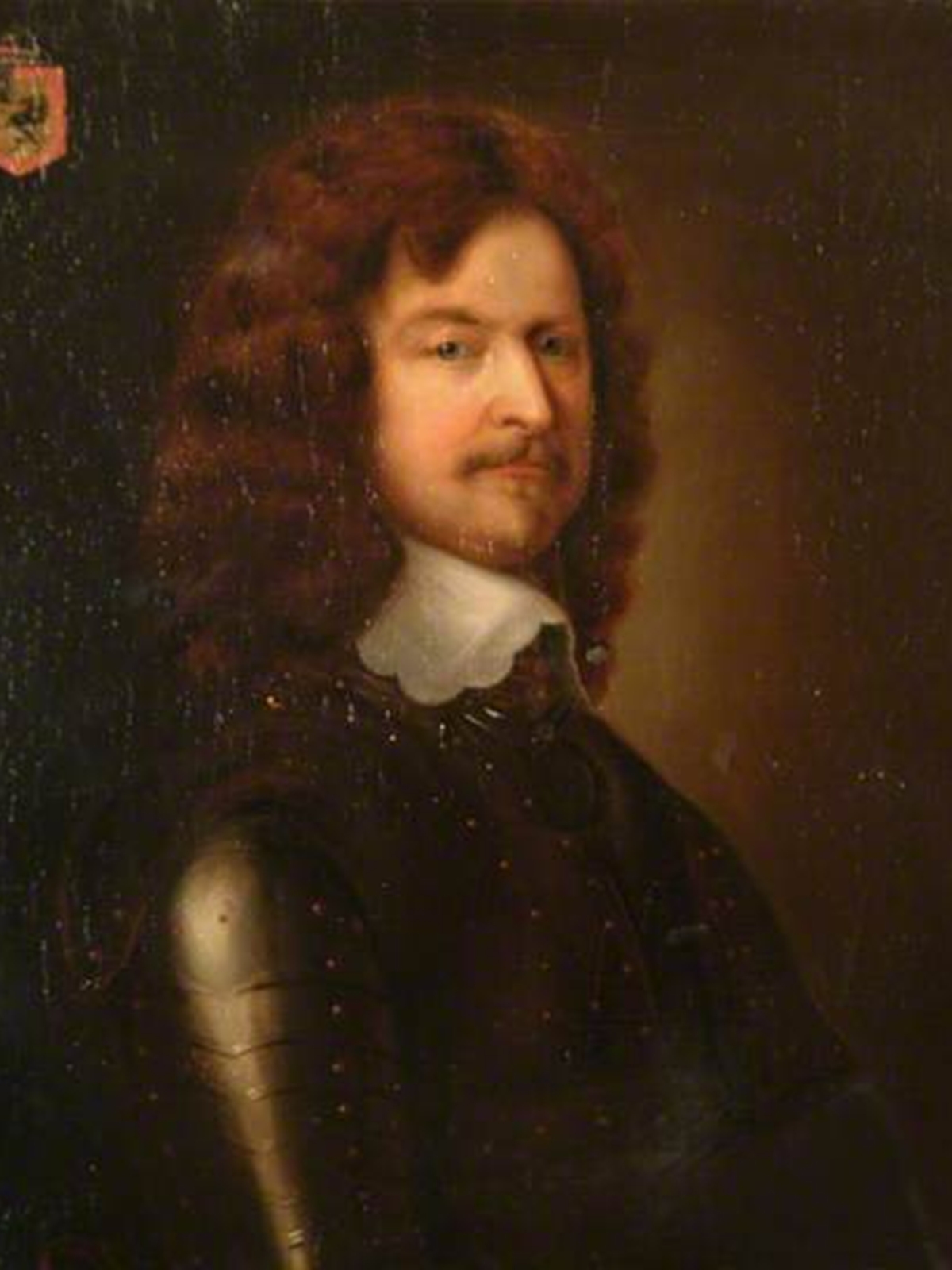 Sir John Boys
John Boys (1607-64) was a country gentleman from Kent. During the English Civil War, he was appointed Governor of Donnington Castle by King Charles I in 1643. He took steps to fortify it, including razing the surrounding houses in order to provide a good field of fire. Despite undergoing bombardment, he successfully defended the Castle in 1644 and was knighted by the king. However, when again attacked in 1645-46, he was unable to defend the Castle further and had to accept terms of surrender. These including marching out with drums beating and flags flying, and safe conduct for his soldiers. He had sustained the siege for a year and nine months. He eventually went into retirement and survived to see the restoration of King Charles II.
An inscription on the reverse of the painting states that it is a copy of an original portrait in the collection of William Oxenden Hammond (1817-1903) of St Alban's Court, Nonington, Kent. It was donated by Mrs Maude Upton in 1948. It is likely that the original, which may have been painted in 1660 by John Riley (1646-91), was sold when the estate was sold in 1938. Its location is not known, but that does not diminish the value of this copy for the history of Newbury. This copy can be compared with an engraving of Sir John Boys made in the late 18th or early 19th century which is in the National Portrait Gallery. The engraving was presumably made from the original and is clearly of the same man.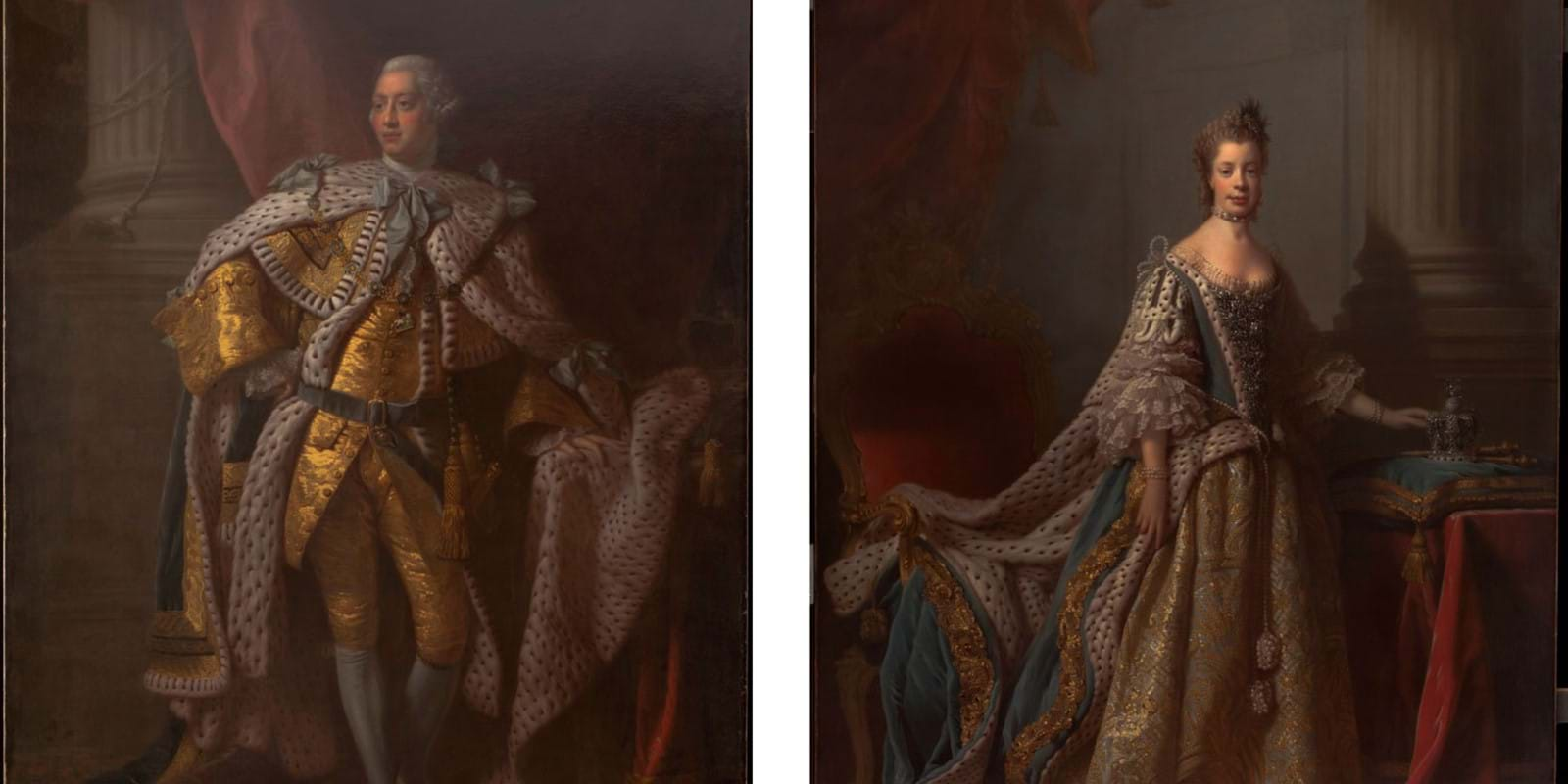 King George III and Queen Charlotte
King George III (1738-1820) acceded to the throne in 1760 at the age of 22. In September 1761 he married Princess Charlotte of Mecklenburg-Strelitz (1744-1818) and they were crowned in the same month. He commissioned the Scottish portraitist Allan Ramsay to paint a large number of almost identical coronation portraits of himself and his Queen for distribution to people of influence. At least 25 such pairs of portraits still exist, of which 12 are essentially the same as these.
According to the Newbury historian Walter Money (A Popular History of Newbury, 1905), these particular portraits were presented to William Matthew Burt, who was Governor of the Leeward Islands 1776–81. Mr Burt lived in a house called Maiden Erleigh, near Reading, which passed by purchase and inheritance to the Reverend Edward Goulding, Vicar of Brimpton. It was Mr Goulding's widow Mrs Louisa Goulding who donated the portraits to Newbury Borough when the Town Hall was built in 1879, and they have been located in this position ever since. Again, according to Walter Money, George III visited Newbury twice, in 1784 and 1789. On both occasions, his visit was in order to change horses at the George and Pelican on the way to somewhere else. On the second such occasion, he had just recovered from his first serious bout of illness, and dense crowds lined the roadway to express their joy. With these two brief encounters with this monarch we shall have to be content, but we are indeed fortunate to have copies of these historic portraits. George III was the longest-lived British monarch until Queen Victoria and our present Queen, and as the above incident indicates he was popular through most or all of his reign. Anthony Pick
Chairman of the Heritage Working Group