HUGE CROWDS ENJOY THE VICTORIA PARK FAMILY DAY!
Newbury Town Council held a Family Day in Victoria Park on Sunday 21 May and there was a huge turn out of people who came along to enjoy the free activities in the sunshine with the Mayor of Newbury, Cllr Nigel Foot kicking off the fun at noon.
There was entertainment on the Bandstand with the Ragtime Theatre School, folk band 'Whoosya' and Watership Brass finished off the day with a spectacular ensemble of popular tunes!  Punch and Judy shows were a real hit with the little ones with everyone joining in the fun.
Cllr Nigel Foot said, "We are so pleased to have been able to put on this free event for families in Newbury. It was such a lovely day and great to see so many people come along and enjoy the facilities and activities we have in the Park."
A Climbing wall proved a great draw and children were happy to join the queue to have a go.
The local Fire Service came along with their Fire Engine and the local Neighbourhood Police team were happy for children to explore the vehicles and chat about the work they do.
Our Tennis Courts had free sessions so everyone could have a go on the day and the Canal & River Trust were giving out information and free duck food to families.          
The Berkshire Lowland Fire & Rescue Team came along to chat to families about what they do as the primary search resource for Thames Valley Police in Berkshire. The volunteers use specialist skills to search for high-risk vulnerable missing persons.
The local branch of 'Rugby Tots' had free 20 minute try out sessions for 2 – 7-year-old boys and girls and the Bowls Club were open too. With the warm weather on Sunday, the children had a great time in the Council's Splash Park and the Skatepark too.  Newbury adventure Golf, the park's latest attraction, was also in full swing, with people of all ages enjoying the fun.  
Cllr Nigel Foot, Mayor of Newbury mayor@newbury.gov.uk 07970 790773
Hugh Peacocke, CEO Newbury Town Council hugh.peacocke@newbury.gov.uk 01635 35486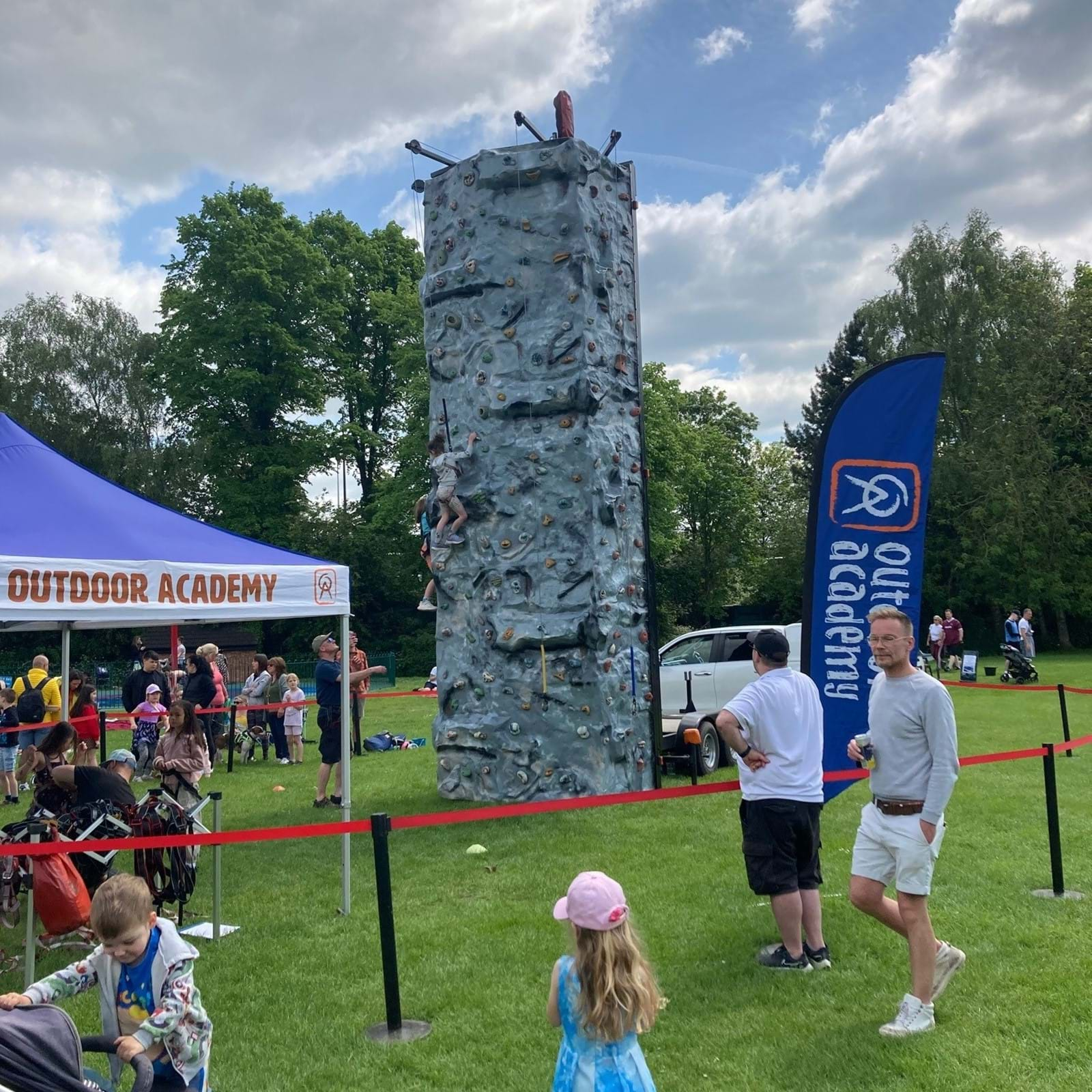 Children enjoying the climbing wall