NEWBURY IN BLOOM 2023 WINNERS ANNOUNCED!
The Newbury in Bloom Presentation evening took place at the Corn Exchange, Newbury on 14 September 2023. The Mayor of Newbury, Cllr Nigel Foot, together with the sponsors, presented the awards to the very deserving winners. There were a total of 38 entries received for the eight categories this year.
All entrants were invited to attend on the evening and the winners of each category were announced on the stage.
The winners were presented with a beautiful fork and trowel set, burn etched by local pyrography artist Naomi Lunn, together with a certificate and a prize from the sponsors for each category.
The evening also celebrated the Green Flag status achieved for Victoria Park and City Recreation ground earlier in the year, recognised by the Green Flag Award Scheme as two of the very best parks. The prestigious Green Flag Award is the recognised mark of a quality park or green space and demonstrates to the public that the Park boasts the highest possible environmental standards, is well maintained and has excellent visitor facilities.     
Cllr Gary Norman, Leader of the Council, said, "I am sure we can all agree that Newbury looks spectacular throughout the year and it's great to see so many people putting in that extra effort and showing what can be done to enhance our town for everyone to enjoy".
Cllr Norman added, "Together with our recent 'Green Flag' awards for both Victoria Park and City Recreation Ground we can all be proud to live and work in Newbury. I would like to congratulate everyone who took part in the Newbury in Bloom campaign and thank the Corn Exchange, Newbury and all of our sponsors for their invaluable support in making the awards such a success.
The winners for the Newbury in Bloom awards are as follows:  
Schools and Colleges – sponsored by Rivar Sand and Gravel Ltd
Winner – Newbury College
Allotments – sponsored by Yew Tree Garden Centre
Winner – Sally Overend Wash Common Allotments
Community Projects – sponsored by Rivar Sand and Gravel Ltd
Winner – The Globe Garden     
Businesses – sponsored by Sundog Hire
Winner – Baldev's Dental Care
Places of Worship – sponsored by Sundog Hire
Winner – St John the Evangelist Church
Neighbourhood – sponsored by Greentips Tree Surgery
Winner – Lower Raymond Almshouses
Miniature Garden – sponsored by Greentips Tree Surgery
Winner – Mencap Centre

Contact:
Cllr Gary Norman, Leader of the Council (gary.norman@newbury.gov.uk) 07801 046115
James Heasman, Parks & Open Spaces Supervisor, Newbury Town Council (james.heasman@newbury.gov.uk) 01635 35486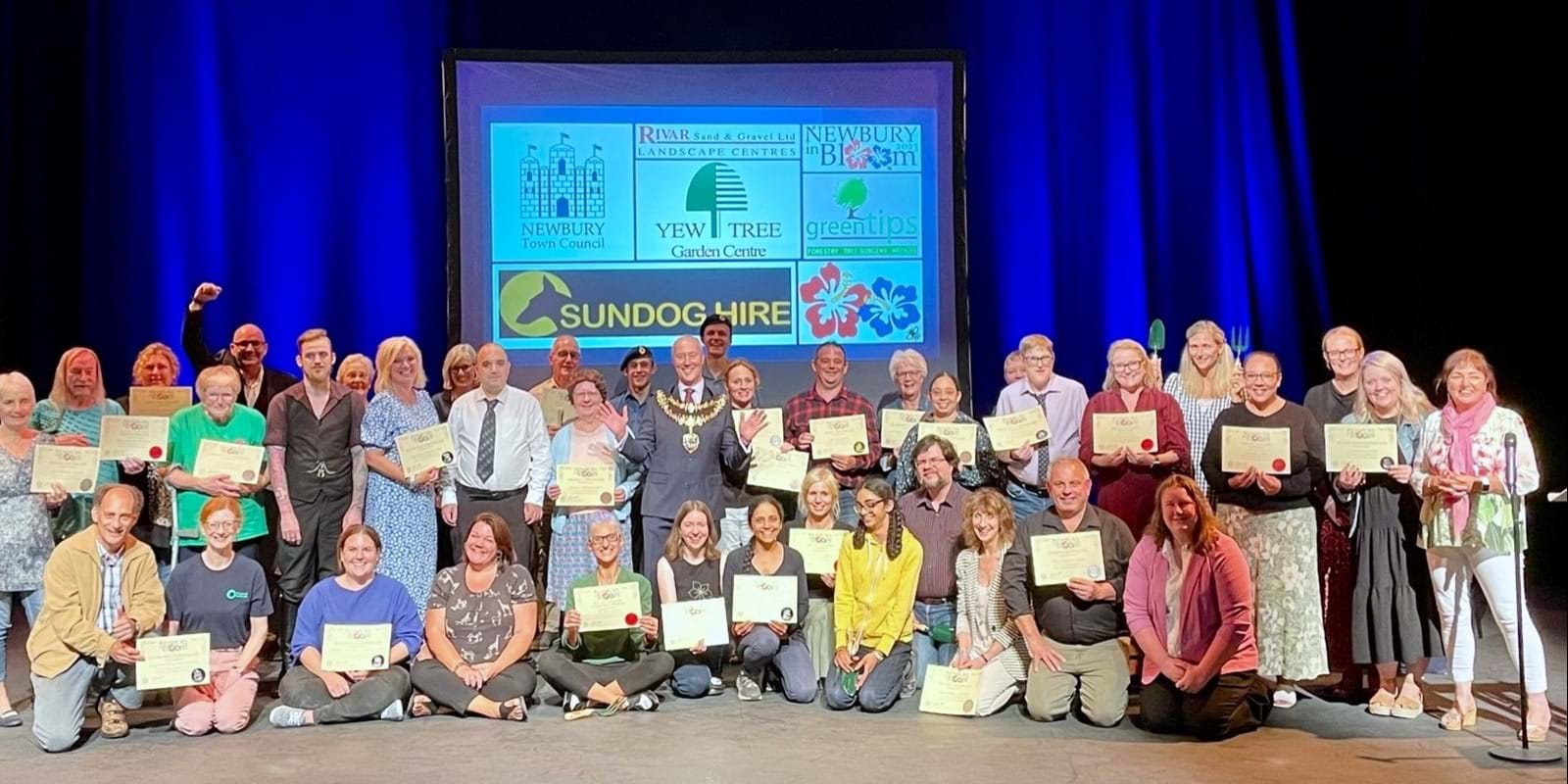 All entrants who attended for the Presentation at The Corn Exchange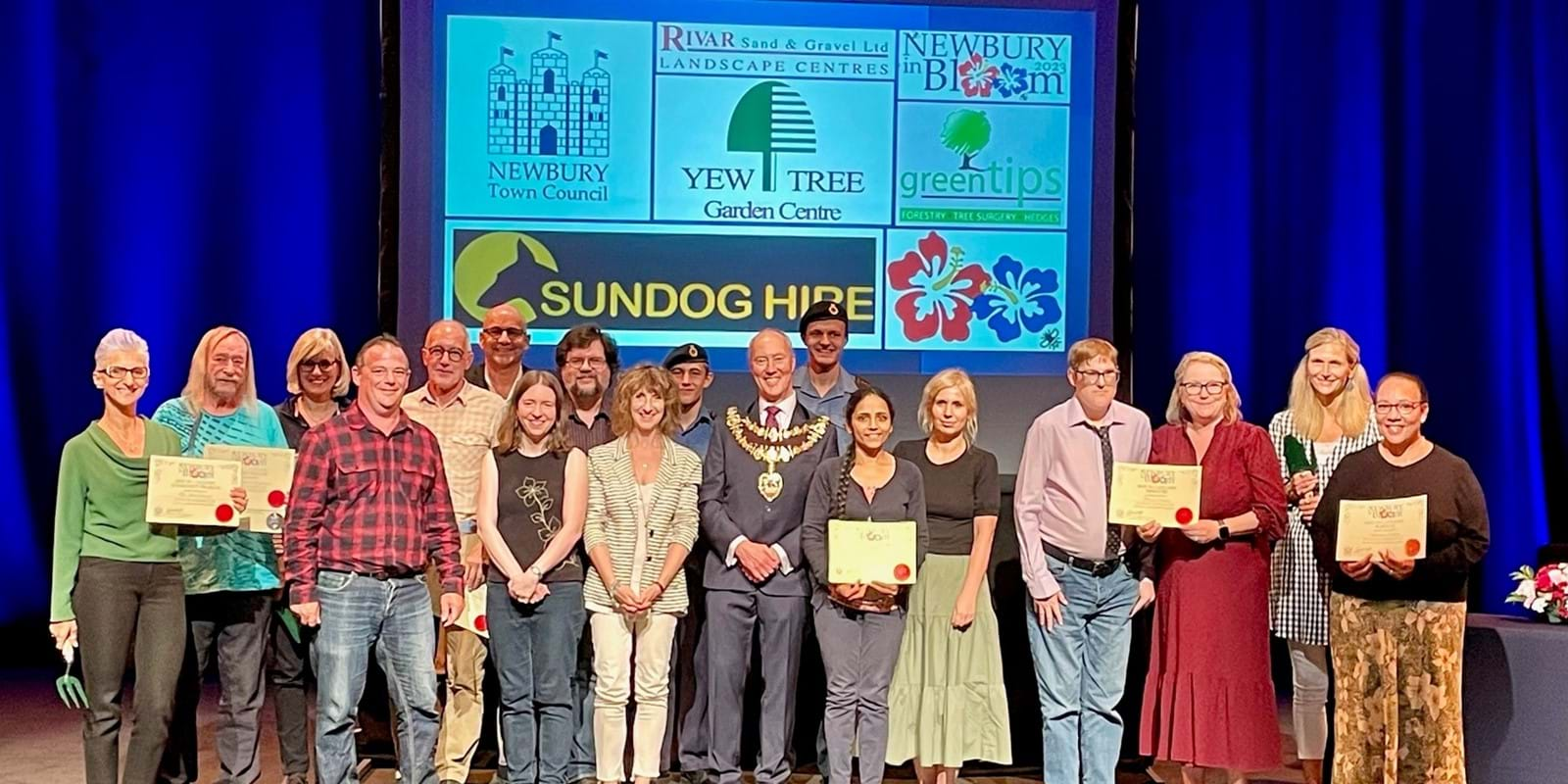 All winners who attended for the Presentation at The Corn Exchange